Facilitation
Because great meetings don't happen by themselves
Our clients appreciate the skill and expertise we bring to facilitation of critical policy meetings, strategic planning sessions, and conferences.
Professional Facilitator Role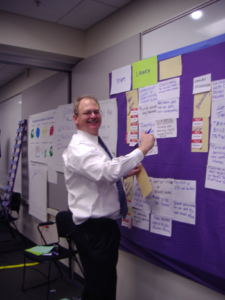 There are many facets to the role of the professional facilitator, including maintaining a common focus on the agenda; ensuring that all participants share equally in arriving at solutions for the common good; steering discussion back to the main issues when it has strayed; protecting the rights of all to participate free from personal attack and personality conflicts.
We provide a professional facilitator who is a neutral, third party who will moderate your meetings to its maximum level of accomplishment without bias towards any one faction.  This is done through expert knowledge of the process, leading the way to solutions which leave every participant knowing that they had a voice in the final decision.  Our facilitators are professionally certified, have completed a one-year master's program, and have demonstrated competency in understanding client needs, managing projects effectively, communicating effectively, creating a positive working atmosphere of safety and trust, eliciting group creativity, using time & space effectively, understanding of group dynamics and mastery of facilitation methods.
Typical Facilitation Process
The Kolbe Company facilitation process follows a proven structure from start to finish, designed to meet the needs of your organization.
An initial meeting with the group's representatives to discuss goals, expectations of the meeting, history of prior meetings, descriptions of participants and their relationships, and the viability of facilitation.
The development, review, and approval of a proposed agenda and an appropriate facilitation method.
Meetings with individual group members to discuss expectations, key issues, roles, special matters, and success evaluation.
Preparation for the meeting, including analysis of materials and logistic planning.
Facilitation of the actual meeting process, including follow-up plans, summary of accomplishments, and meeting evaluation.
Documentation of the meeting – duplicated, mailed to participants, or posted to the web site.
Follow-up with the group's management and/or representatives to elicit final evaluation and comments.
Some basic ToP® Methodology
 About ToP®
We are known for facilitating highly effective and productive meetings using a wide variety of collaborative tools and  the powerful Technology of Participation methodology.
ToP® Methods are effective:
Eliminates chaotic and ineffective meetings

Efficient, productive and engaging

Inspires creative and innovative solutions

Honors group diversity and integrates all contributions

Empower and engage the commitment of others

Bring disparate opinions to consensus quickly and respectfully

Synthesize more data in less time

Deal positively with change

Supports learning and continuous

improvement
ToP® Methods are useful in a variety of situations:
Adaptable to an infinite number of situations

Scalable to work with virtually any size group

Effectively navigates complexity
Achieves tangible results every time